Billy Bishop Airport
by Michael Murray on July 14, 2017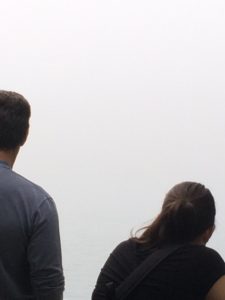 Billy Bishop airport, which sits tiny and sweet on Toronto Island, has the feel of a Fisher Price toy.
It's as if the adult world has been rendered small, simple and fun, and as we boarded the ferry for the three minute journey to the airport, we felt like children getting on a ride at the CNE. It was first thing in the morning and a dense fog hung mysteriously around us, covering everything.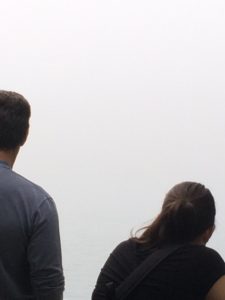 We could not see where we were going, and this created an atmosphere of adventure and whimsy, and in this context all the businessmen looked particularly ridiculous. Each one of them in a suit that suggested the distance between the corporate status to which they aspired and the disappointing status that they'd actually been assigned, they sat in isolated, self-important concentration. Brows furrowed over spread sheets and columns of data, their too-large fingers hunted-and-pecked on miniature keypads, and it was all a little heart-breaking. Like kids pretending at being adults, they attempted to project that what they were doing was of vital importance, but you could tell that inside they all knew better.
Inside they still wanted to discover a waterfall.
Swim with a knife clenched between their teeth.
Find the hidden treasure.
To our son Jones, who is nearly two, everything is a wonder. He is on the edge of language, and his words, mysterious and uncontainable, are still holier than ours. Excited, almost breathless, he exploded onto the ferry with bright, astonished eyes. He ran around pointing, naming everything he saw. The businessmen all kept their heads down—there was important work to be done—but an older couple watched, smiling as this new world broke into day around our son, aware they were in the midst of a tiny God now bringing his universe into being.
Tags:
Adventure
,
Airplanes
,
Billy Bishop Airport
,
Businessmen
,
Celebrities
,
children
,
CNE
,
Computers
,
Couples
,
Current Events
,
Employment
,
Finance
,
Fisher Price
,
Flight
,
Fog
,
Gods
,
Journey
,
Men
,
Ocean
,
Porter Air
,
Religion
,
Social Media
,
Toronto
,
Toys
,
Travel
,
Water
,
Weather
,
Wes Anderson
,
Work