Fortune Bay, Souris, Prince Edward Island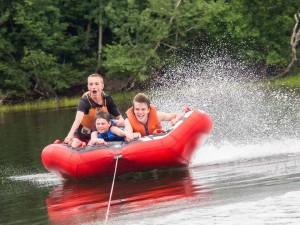 Basin Head Beach is reputed to be one of the most lovely in the county. Teens clustered on the wharf and the bridge that passed over the fast-moving currents beneath. They were all so perfect, these teens, each one of their bodies humming, almost glowing. Gathering courage and energy in front of their summer crushes, they'd stand up on the railing, take a deep, wide-eyed breath and then jump, falling like comets into the future.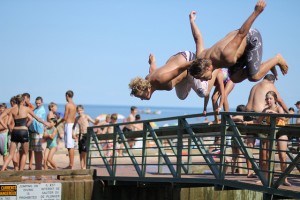 The seals of Rollo Bay would only allow us to come to within about 20 feet of them before clamoring off into the water. Slightly hurt that they didn't love and trust us more, we'd sit watching, pleading with our eyes. Alien and mysterious, arrayed in undecipherable formations, they just bobbed in the water "They know so much more than we do," Rachelle said to me.  And after about an hour, as we motored away, one seal bulleted along with the boat, always watching, a decoy to lead us away from the greater pod now settling back on the sands.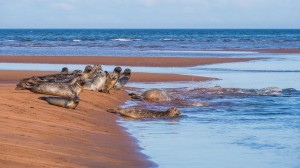 Prince Edward Island is stunningly simple and beautiful, a sort of land that time forgot– like a place in a movie rather than a place in the world. We stayed with some friends at their cottage on Fortune Bay, near Souris, where their families return each year to effortlessly entwine like forest. Children and dogs run freely about in an endless golden summer, while the adults, smiling and just slightly melancholy, watch from beyond.
A sweet man who looked like he belonged on a rum bottle played acoustic guitar in front of the fire singing Farewell to Nova Scotia:
Farewell to Nova Scotia, the sea-bound coast,
Let your mountains dark and dreary be,
For when I am far away, on the briny ocean tossed,
Will you ever hear a sigh or a wish for me?
He sang it slowly, a eulogy rather than the typical jaunty, Irish Rovers kind of celebration. His east coast voice was thick and true, and the song was beautiful and heartbreaking. His wife watched keenly from the sofa, her hands pressed together hoping that he would speed up the tempo, but he didn't, he didn't, and somebody's ghost lingered long after the song was finished.
One night I was speaking with a middle-aged woman about the royal family, and how in spite of it all, she cared.
"They're not just celebrities, they're a family and their presence ties them to my family. It's visceral, organic, and there's not a woman my age that didn't weep when Lady Diana died. Oh, the poor thing– beautiful like a fawn– the eating disorders, the unhappiness, and then when she became herself, her death. And so I've followed her children, so alone, really, and when I heard William and Kate had their baby on the radio I was so moved I had to pull over and text my sister, and all up and down the highway, other cars were doing exactly the same thing. "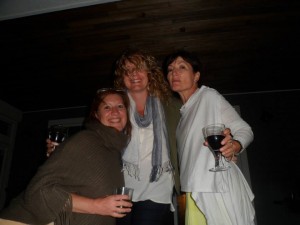 A beautiful and sophisticated couple from Montreal rent a cottage in the area each year. All of the men have secret crushes on Pierre, while all of the women have secret crushes on Louise. One night they shared a Quebecois song from the 70s with us as we sat out on the steps of the cottage. Louise, wrapped in a blanket, sang along from her perch, while Pierre, in a voice from some film you never forget, translated the words for us, and through this translation the song took on many voices, becoming a history made manifest, a poem still unfolding as the stars wheeled above.
*With thanks to Victoria Bazan and Rob Hyndman, who provided most of the photographs and everything else. ( And to many, many others, too.)