Jose Bautista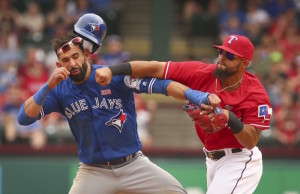 Baseball, my friends, baseball.
Last year there was a play-off game between the Texas Rangers and the Toronto Blue Jays that was perhaps, one of the weirdest, most entertaining, anarchic ball games in the history of the known universe.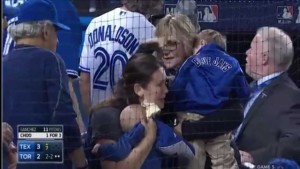 Part ayahuasca trip, the game culminated when Blue Jay superstar Jose Bautista absolutely crushed a three-run homer that for all intents and purposes, ended the game, time and the universe.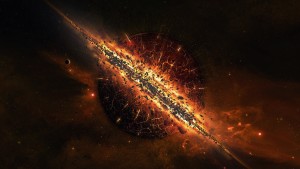 It was that epic.
The Rangers were ruined.
You could see the post-traumatic stress disorder forming in their glassy eyes. You could see the days of boozing and aimless driving. You could see that recovery was going to be impossible.
And if that wasn't enough, Bautista performed a now legendary bat flip that saw him standing motionless at home plate, like a statute of a Greek God, as he watched the ball sail to glory,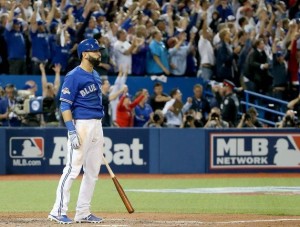 before dropping the mic by tossing the bat, as if it was now something repellent to him, about a mile away.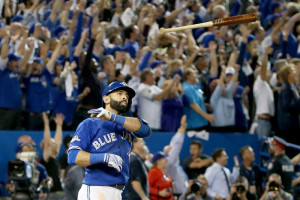 This got under the skin of the broken Rangers, and it stayed there.
Jose Bautista has big, rat-like ears, the physical rectitude of a matador and a self-confidence that radiates from him like some sort of X-Man power. He is arrogant, this man, and although he's an intelligent and astounding baseball player, he's still a prick. I mean, he thinks of himself as a corporation and acts accordingly. He knows how great he is, and if for some reason you forget it, his body language will surely remind you, and if that doesn't, well, he'll tell you. You get the sense with Bautista, that he really does see the rest of the world as, "The Little People."
At any rate, this bat flip, this losing in the playoffs to the Jays has stuck in the collective craw of the Rangers for the better part of a year.
Sunday was the last meeting of the two teams this year (barring a playoff match-up) and the Rangers pitcher hit Bautista with a pitch. This was pay back, and although Bautista gave him the slow, threatening stink-eye, he didn't do anything, until he did do something. This something was a hard, illegal take-out slide of Ranger second baseman Rougned Odor on an ensuing play.
Now this sort of thing has been happening in baseball for a hundred years, but only recently was this kind of slide (in which you try to knock over the second baseman rather than achieve possession of the bag) made illegal. Odor, the second baseman, shoved Bautista in the chest. Bautista, who could buy and sell the little man, moved toward him like a God toward a mortal, and as he was pulling his fingers together to make a fist,  Rougned clocked him in the face with a stunning punch that saw Bautista's $13,000 glasses, helmet and ego go flying.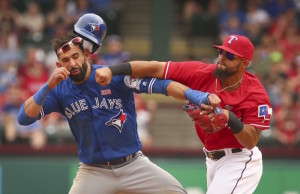 It was awesome.
Of course, there are all sorts of people who are upset about the savagery of the act, but not me. It was cathartic and shocking, a David and Goliath moment that saw the preening, entitled 30 million dollar a year athlete get what his behaviour actually warranted. It was, for a moment, a kind of justice, a blow for the little man, and it made me happy.