Rob Ford: Third And Long ( A very short one act play)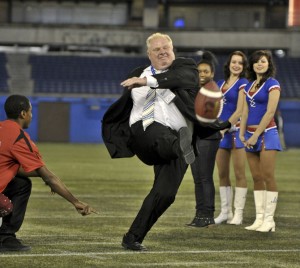 Rob Ford, the misunderstood mayor of Toronto, is our eye on integrity. Straight talking and clear thinking, he has an ability to cut to the chase and articulate the truth that beats in the core of the hearts of most Torontonians. As such, he has made some enemies, enemies who shamelessly pursue him, mocking his weight and his family, all the while twisting every one of his actions into some crime or misstep that suits their political agenda.
The most recent assault on Toronto's foremost public servant comes from the Toronto Transit Commission. The other day a streetcar driver accosted Mayor Ford, accusing him of driving his Minivan (identified by the license plate "ROBFORD") past the open front doors of the city vehicle.
This is a short, one-act play called Third And Long, (commission by Ford supporters) based on recent events.
THIRD AND LONG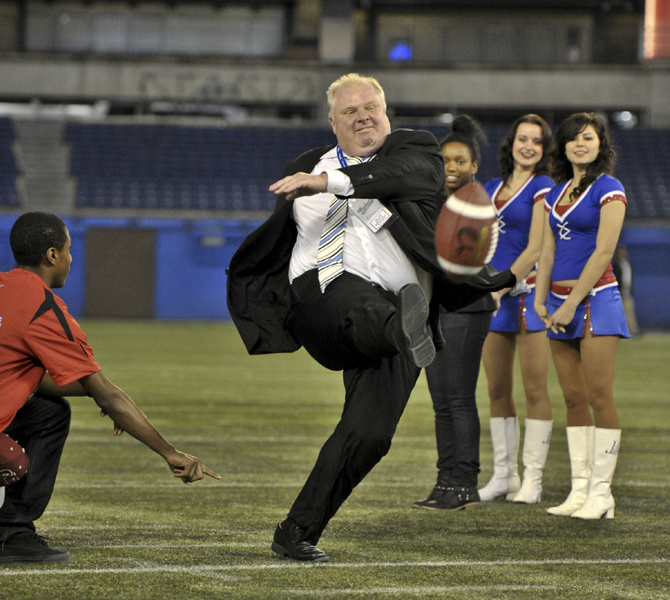 Entitled unionized employee who is lazy and breaking regulations: (Rushing out of streetcar to accost Rob Ford as he sits in his car listening to motivational tapes while waiting for the light to change.) "Hey piggy Mayor, your mama so fat when she gets a cut she bleed milkshakes, she so fat she sells shade in the summer. You a fat motherfucka! "
Mayor Ford: "Pardon me, sir?"
Entitled unionized employee who is lazy and breaking regulations: " Your politics suck ma dick, and I say you drove past my open doors! You front page, fattie!"
Mayor Ford: "I have to disagree with you, but if you like we can proceed through the proper channels to have this matter resolved."
Lesbian on streetcar with social disease and unpleasant tattoos:  (Leaning through the window and shaking her fist)" I sawz him! He was speeding like he done something wrong! Maybe he kilt somebody!"
Mayor Ford: " I'm just here to serve the people in the best way that I can, and if any of you have any questions, I'll be happy to answer them."
(At this point Mayor Ford parks his vehicle, pays the meter and gets on the streetcar, paying his three dollars.)
Mayor Ford: "Toronto has the best public transit in the entire world! I'm probably much better taking it than driving and it's also nice to get to chat with my fellow Torontonians! How are you Miss?!"
Indian woman in Muslim costume with baby who is different colour than she is: "I come from other country! Where my money! You supposed to feed my baby I make from crazy drug sex!"
Mayor Ford:  (Smiling) "You have a lovely child there, she could grow up to be Mayor, you know."
Person in wheelchair taking up way too much room: " My disability isn't enough! Give me more!!"
Mayor Ford: (Taking a knee to get closer to the person) "I feel your pain and will personally look into your case to see if I might improve matters!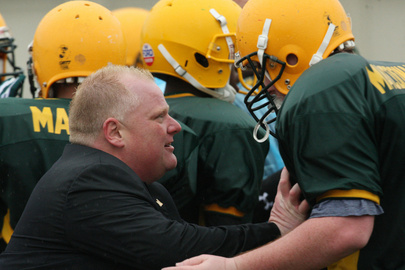 NDP Party member and supporter of Occupy Wall Street who is playing bongos in back of the streetcar: " Your family is ugly!"
Mayor Ford: (laughing in a good-natured manner) "Oh, we're just big-boned!"
Faggy drug addict with a nose bleed: " You've been running this city as if it was a suburban country club, ignoring the needs of those with the greatest need, why won't you help us?"
Mayor Ford: " Your words are daggers into my heart. You are all my children, (opening his arms expansively) my constituents, and I want nothing more than to help you by teaching you to help yourselves!"
And then Mayor Ford hands out Scratch And Win lotto tickets to all the passengers on the streetcar, the people, HIS people, now applauding and cheering as he drives away in his Minivan to visit with wounded troops.