Getting slapped by NHL enforcer Ben Eager at the Quail and Firkin in Toronto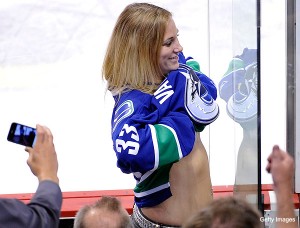 As many of you will have heard, I was involved in an altercation with an NHL player on Saturday night. Don't worry I'm fine. As it turns out, I'm not unusually grossed-out by being spit on, and my blood coagulates very quickly.
Anyhow, like every Saturday night, I was at the Quail and Firkin on Yonge Street drinking a half liter of white wine while playing my Scratch N' Win tickets. You should know that this bar is on the cusp of Rosedale, an immensely wealthy district in Toronto, and is typically filled with the hammered offspring of very rich people. Normally I'm entirely ignored, but this week a massive guy who must have been about 6'2 240 bullied up to the bar beside me, and seeing me scratching and not winning, derisively said to his buddy, " Look, Elvis Costello there is hoping to win some cash for his next drink!" And then they were all "Bro" about it, laughing and giving one another high fives, before ordering themselves and every waitress in the place, shooters.
I gave them a sour look.
"Jager Bombs, good choice," I said, "the gold flecks make it classy."
The big guy fixed me a look.
"You gotta problem, besides being you, I mean?" There was a high-five followed by the big dude putting the littler dude in a headlock, both of them letting out a beer ad yell, and then another round of shooters.
"Look, I'm just trying to scratch n' win here, okay?" but instead of looking away after I spoke, I looked right at them and held their gazes. I was almost finished my half- liter of wine. Feeling pretty confident.
"Do you know who I am?" the big guy asked.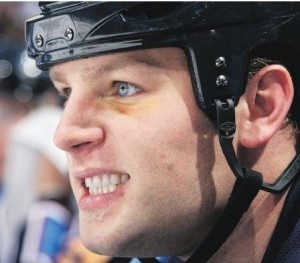 " Were you a contestant on the Canadian version of Survivor?"
The smaller but still huge guy said, " He plays in the NHL, he led the league in penalty minutes in 2006-07. An Oiler. He could buy and sell you, low rent man. A chick flashed him at a game. He's a stud."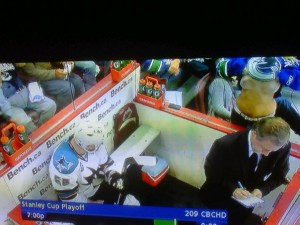 Suddenly it all clicked into place.
"Ben Eager?" I asked.
He tilted his head and looked at me, somehow managing to make his face look bigger. "That's right, I'm not the guy you want to be messing with, understand?"
"You were in my hockey pool last year! It was like a dead pool, only for guys we thought were in the closet!"
At this point NHL enforcer Ben Eager slapped me really hard across the face, knocking me to the ground. He then spit on me. It landed on the back of my head, I think. A bouncer charged over to break-up the altercation and was immediately beaten to a pulp by Eager. It was ugly and the police were called, whereupon both Eager and his brother were charged with assault.
It's clear that the NHL lockout is hurting us in ways we never even imagined.