Jones' Swim Lessons
by Michael Murray on November 23, 2017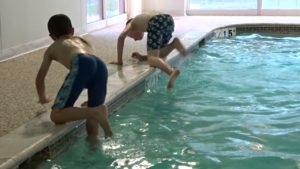 It was almost unbelievably sweet.
On Sunday Rachelle and I took our son to his swimming class in Kensington Market.
Walking down the stairs to the pool there's the heavy, nostalgic smell of chlorine drifting up to meet you, and when it does, something takes place that moves you from one point in time to many others.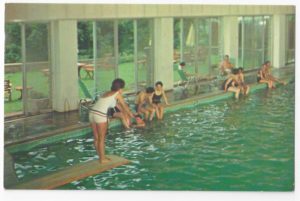 Every pool you ever knew is conjured, and you remember feeling a little vulnerable and excited as your bare feet padded toward the pool. You remember diving boards and lifesavers, games and races, unknowably beautiful lifeguards perched above like trophies, and the light catching the water as it swells and dips, glinting.
Everything refracted, everything reframed.
But on this day there were about six parents– each one with their tiny, precious child– forming a semi-circle around the instructor. So comfortable and confident in the water, she was like some mythical sea creature who spoke only in a song.
"Three blind mice, three blind mice, splash your hands, splash your hands," she encouraged, and all the children kicked and splashed– and that, the water leaping up, became the physical manifestation of their joy. To witness this could have been the instructor's great passion, the love to which she had given her life over.
And Jones was so happy. Excited, he shouted along to all the nursery rhyme instructions. He was game for anything. Even Torpedo Time, when the toddlers are submerged under water and then pushed through a hoop by a parent only to explode out of the water like the radiant beasts they are. Rachelle, who was smiling so broadly her face could have split in two, swung Jones through the water and then lifted him as strong and high as she could, before swinging him back down and then throwing him up in the air. And Jones, now soaring, was above it all, glowing in a weightless paradise for a moment, before falling back to us and into his mother's arms.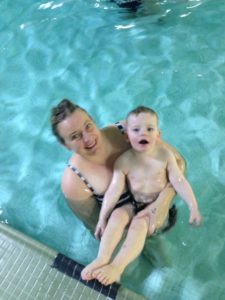 Tags:
1970s
,
Blogs
,
Boys
,
children
,
Chlorine
,
Current Events
,
d
,
Diving
,
Family
,
Kenginston Market
,
lifeguards
,
Love
,
Michael Murray
,
Motels
,
Music
,
Nostalgia
,
Nursery Rhymes
,
Pools
,
Social Media
,
Swimming
,
Swimming Lessons
,
Swimsuits
,
Time Travel
,
Toronto
,
Torpedoes
,
Water
,
Writing