Queen East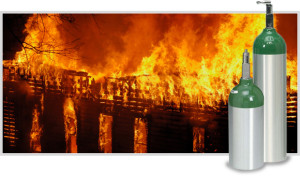 The other day Rachelle and I had lunch at Joy Bistro on Queen East.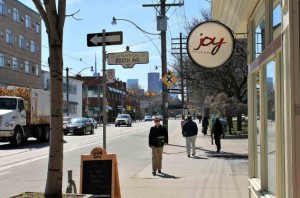 After the meal, Rachelle went off to run some errand with her sister while I decided to wander about the streets of our old neighbourhood.
Not sure where to go, I just stood on the sidewalk attempting the appearance of somebody who was making an important decision. This must have looked like providence to the woman walking by. She did a double-take, and then looked intently at me me, this man pulling an oxygen tank behind him lost in deep thought. She smiled, wanted me to know a bit about God, and handed me a pamphlet that asked the question, "Will suffering ever end?"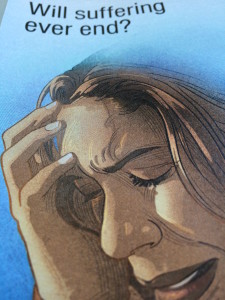 As if in answer to that, a street person immediately joined me on the corner. I would guess that she was in her 20's, but she might have been younger. Through her wounded shell, you could see the beauty inside, how if just a few things had been different in her life, this capacity for joy would have blossomed.
She didn't seem to want much more than company, as she just stood beside me, somehow assuming an immediate and willing position of subordination. It was as if we were now, and always had been, part of the same pack, and I was the Alpha.
Strung out and jittery, she kept shifting her weight from one foot to the other, sometimes moving in small circles in order to scan the horizon in all directions. Between her fingers she kept the small stub of a cigarette. There was little tobacco in it, but she worried it between her fingers like Rosary beads, asking each person who passed if they had a light. I tried to communicate to her that because of the oxygen tank I had with me, I couldn't be around an open flame as it might cause an explosion, but she didn't seem to understand.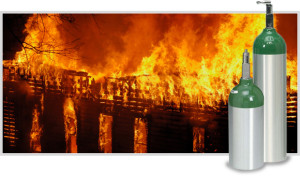 I had to leave, but I didn't want to. I felt protective, like she needed me there. I wanted to help her somehow, but the circumstance of my oxygen tank and her need to smoke were dangerous.
"Okay, I'm sorry, but I have to go."
She looked disappointed.
"I can't talk," she began, "my words go away and I can't find them, but I want you to know I'm big." Her eyes were wide and she stretched out her arms, "I'm more."